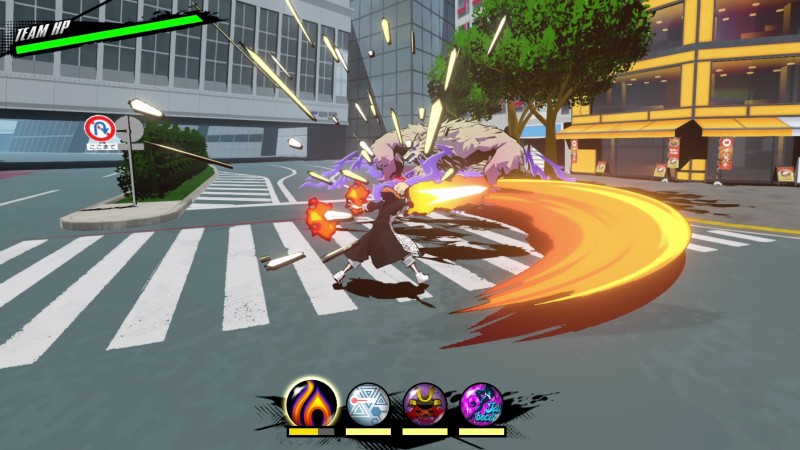 Fans of The World Ends With You have waited 14 years for a sequel, and their patience will finally be rewarded this July with the launch of Neo: The World Ends With You. The game takes place three years after the events of the original cult classic and introduces a new protagonist in Rindo, a revamped Reapers' Game, and reimagines the original's 2D combat and exploration into a new 3D style. What hasn't changed is the series' stylish art direction and soundtrack, scored once again by composer Takeharu Ishimoto.
We've been chomping at the bit to learn more about what Neo entails, so we sat down with the dev team at Square Enix to glean more info about the anticipated follow-up. Here's 6 things we learned about Neo: The World Ends With You.
You Command All Team Members Simultaneously
The biggest difference between the Reapers' Game in Neo compared to the original is that it's team-focused. Multiple squads will battle it out in order to climb the rankings and become the top team of the Reapers' Game. Meanwhile, the group that places last will be erased from existence.
In combat, players control their entire squad, the Wicked Twisters simultaneously with each character assigned to a specific button. This setup should sound familiar to fans of titles like Valkyrie Profile or Indivisible. Hitting a button causes the assigned character to attack, but players can also press multiple buttons at the same time to unleash combination attacks.
Note my repeated use of the word "button". Unlike the original, which was controlled using a touchscreen, Neo: The World Ends With You has no touch controls whatsoever, even on Switch. You'll be controlling Rindo and his Wicked Twisters using good old fashioned buttons and analog sticks.
Most Of The Pins Are Brand New
Neo's arsenal of pins is largely made up of all-new abilities. Expect these powers to be as over-the-top as the previous batch; one of these, Angelic Kick, allows players to deliver a powerful aerial kick that can send opponents careening into walls. The other two pins Square has confirmed are Azamaru, a flaming sword slash, and Glacial Getaway, which allows players to raise a pillar of ice underneath foes.
That said, fans can also look forward to finding reworked versions of pins from the first game. Though they'll retain their same general function, pins like Entanglement and Flame Blast have been recreated in the 3D style.
Shibuya Is Closer To Life-Size And Has New Side Quests
The switch to full 3D means that Shibuya is much bigger and closer to scale to its real-life counterpart. It also now includes the Harajuku district. Even though Neo's story takes place just three years after the first game, in reality, Shibuya has changed even more in the 14 years since the last game released. Thus, the visual design of the city reflects those changes.
Neo's expanded scope also allows the development team to implement features it couldn't add in the first game. These include side missions that involve solving the problems of Shibuya's residents. We still don't know what entails exactly, but we do know that the game is still mission-based as a whole. You'll just have some more involved activities to occupy yourself in between main story beats.
You Can't Control Rindo's Replay Ability
Rindo and his pals each possess a specific psychic ability. Rindo's power is Replay, which allows him to turn back time and re-do certain actions in order to, hopefully, create better outcomes. This power only appears during scripted moments; it is not an at-will ability. Additionally, Rindo can only use Replay once per day. Since the Reapers' Game takes place over the course of a week, players should expect to see this power on display at least seven times. It'll be interesting to see the narrative ramifications, which Square isn't divulging just yet.
There's No Co-Op
Although the Switch port of The World Ends With You introduced a cooperative element, Neo will not have any sort of multiplayer element whatsoever
Neku Has A Signficant Presence
The most recent trailer for Neo teased the return of Neku, the protagonist of the previous game. Fans have been speculating about how big of a role he'll play in the game, and we learned that Neku's involvement will be larger than a mere cameo appearance. Naturally, Square isn't spilling the beans on what that means exactly, only describing his role as "important" and that he appears in a "very ideal way". That said, don't expect Neku to steal the spotlight from Rindo and his teammates. Square reiterates that the Wicked Twisters are very much the focal point of Neo's story.
---
Neo: The World Ends With You launches June 27 for PlayStation 4 and Switch and comes to PC at some point later this year. How do you think the game is shaping up so far? Let us know in the comments!