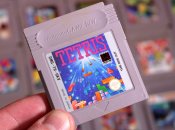 The upcoming Tetris movie – which charts the fight to win the rights to the video game which would become a cultural phenomenon and help Nintendo launch the Game Boy – is currently in production, and we already know that Golden Globe winner Taron Egerton is taking on the role of Dutch businessman Henk Rogers while Nikita Efremov will play Alexey Pajitnov.
However, we've now gotten wind of another inspired piece of casting, with the superb Roger Allam stepping into the considerable shoes of the late Robert Maxwell, whose company, Mirrorsoft, was one of the bidders for the home format rights to Tetris.
Not that you'd instantly recognise Allam under all of those prosthetics – he really does look like Maxwell:
Allam has enjoyed a distinguished career on both stage and screen; you might recognise him from Game of Thrones, V for Vendetta and Pirates of the Caribbean: On Stranger Tides.
Tetris is being directed by Jon S. Baird and will launch exclusively on Apple TV+ in the near future. Togo Igawa has been cast as the late Nintendo boss Hiroshi Yamauchi. Filming was completed in March.
Thanks to Nick Webber for the tip!