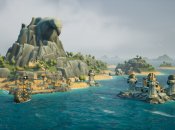 It was only earlier this month that the rather promising pirate RPG King of Seas got a confirmed release date of 25th May on Nintendo Switch. Developed by 3DClouds and published by Team17, it's definitely caught the eye and will hopefully hold up well on Nintendo's system.
When that announcement was made it was also confirmed that there's a demo on Steam, but from today we can see how that Switch version is shaping up thanks to an eShop demo. The demo should be ready as you read these words, or very soon later today.
As a reminder the game, which promises an 'epic adventure story', will cost £24.99 / €24.99 / $24.99 / $39.99AUS when it lands; pre-orders open today on the eShop.
Will you give this demo a try?