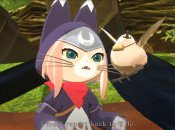 While plenty are enjoying Monster Hunter Rise and can look forward to the upcoming drop of new content, there's also good reason to be excited about Monster Hunter Stories 2: Wings of Ruin, the sequel to the rather lovely 3DS title. Naturally it featured in today's Monster Hunter Digital Event, and some new details were given.
The key focus was on the battle mechanics, which have been expanded upon since the original game. Elemental attacks will be key, and you choose between POWER / SPEED / TECHNICAL attacks in a rock / paper / scissors approach.
You'll be able to get more strategic and attack specific monster parts, and if you and your monster choose the same attack type it'll prompt a powerful Double Attack. Battle Buddies can also join you, meaning you can have up to four units on your side in a turn-based battle. Finally, you can charge your Kinship Gauge to trigger even more powerful moves.
The presentation also confirmed that Lilia and Reverto, from the first game, will re-appear in this game. The new trailer is well worth a watch as it teases some interesting story beats.
We think this is looking rather good, but let us know what you think in the comments!