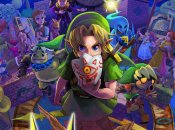 The Legend of Zelda: Majora's Mask today turns 21 years old in Japan. Although it's not quite as significant as last year's 20th anniversary, in some countries Link and Skull Kid would now be old enough to have a drink.
The game first arrived in Japan in the year 2000 and despite being one of the creepiest entries in the entire Legend of Zelda series, is still a fan favourite. It's got a three-day cycle, many different mask transformations for Link and a Moon that's ready to destroy Termina.
To celebrate the 21st anniversary of the game, Japanese fans have got together on social media to share their love of this game. Even Masahiro Sakurai – the director of Super Smash Bros. Ultimate, uploaded a commemorative photo:
Zelda fans in the west are also using this date to share their own love of the N64 classic:
This year is obviously Zelda's 35th anniversary, while there's been no mention of Majora's Mask making a comeback, a lot of fans are getting similar vibes from the trailer for the sequel to The Legend of Zelda: Breath of the Wild.
Would you like to see Majora's Mask make a return? What are your own memories of this Nintendo 64 and 3DS title? Leave a comment down below.