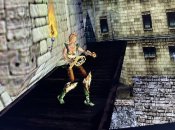 Update: The Castlevania Resurrection E3 demo has been uploaded to the web, giving players the chance to experience this lost title for the first time ever. The demo is available in CDi and GDi formats, which means you can run it on original hardware either via a CDR disc or using an Optical Disc Emulator, like the Terraonion MODE.
Please note: Due to the fact that this is copyrighted material, we will not be linking to the download in this post – please do not post download links in the comments. Thanks for your understanding.
---
Original Story [Tue 6th Apr, 2021 05:05 BST]: There have been a lot of promising games cancelled over the years, fortunately – more of them seem to be returning from the dead. Already this year, GoldenEye 007 XBLA and Dinosaur Planet have been leaked online, and now to add to this, a pre-E3 demo of Castlevania Resurrection has surfaced.
This title was originally announced by Konami in 1999 and was intended to be a Sega Dreamcast release until it was delayed and then cancelled around the year 2000. It's believed the Dreamcast's struggles and the PlayStation 2's success were contributing factors.
Before it was cancelled, it was shown off to the press and now somehow, out of nowhere, a video of the game being played has been uploaded to YouTube, titled "Castlevania Resurrection exists". It's appears to be an early build of the game (pre-dating 1999) and allowed the developer to transport the character to many different areas.
This title was apparently intended to focus on Sonia Belmont and a character called Victor Belmont, and would have taken place in 1666 right before Simon Belmont's original outing.
It's not known yet if the uploader of this footage will be sharing this pre-release build online, but if we hear anything we'll let you know. On a related note, last week, "the absolute worst" Castlevania game joined the Arcade Archives collection on the Nintendo Switch.
What do you think of the above footage of Castlevania Resurrection? Would you have been interested in playing this one back in the day? Share your thoughts down below.