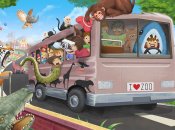 Publisher No More Robots has been an eager supporter of the Switch eShop, and has confirmed to us that its next title will also make its way to the hybrid system. Let's Build a Zoo, developed by Springloaded, is a Theme Park-style management sim in which you build your park, breed and import animals and manage the various aspects of the site.
It promises to be a little more than just a charming throwback, however. At the heart of the game will be a DNA splicing system that lets you create 'over 300,000' variations of animals. The graphic below showcases a few examples.
It also promises a 'fully fledged morality system', so if you want to go to the dark side and 'essentially turn your zoo into a meat factory', you can go that way. But of course, if you want to have a zoo full of happy animals and people, that's an option.
Let's Build a Zoo is due out on PC in the summer after a closed beta, but it's good news that Nintendo Switch will get the game at some point as well.
Is this one you'll keep an eye on?